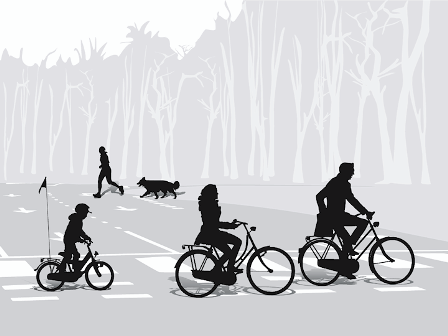 When I get a new bike, the first thing I do is slap an odometer on the handle bar to see how far I can ride.
This section of aFountainOfBargains lists web sites handling cycling gear including mountain bikes, road bikes and products for triathlon.
You can save the world by cycling to work ... so long as you are careful. Car drivers are crazy. They think they can always beat a cyclist at a stoplight and consider the bicycle lane to be a right turn lane.
Cycle fast. Cycle far. Ride to work instead of a car ... but above all ... be safe.
ShiftGears and order direct from the manufacturer! Pactimo is the source for cycling apparel. They have cycling clothing for all levels of cyclists. It is a great place to order matching team apparel.
Performance Bicycle is a leading cycling super store. They carry mountain, racing and touring bikes and have a massive selection of parts, tools, gear and radical apparel for both amateur cyclists and the cycling enthusiast. (more bargains)
TriVillage.com is a leading online store for triathlon and performance sports. The site includes performance wet suits, shoes and related products for today's endurance athlete. Link takes 10% off orders over $100.
Hop on the Bike Wagon. This shop from North Salt Lake has a massive warehouse with quality bikes, gear, apparel and accessories. The site carries everything from BMX and off country to touring and urban fixies.