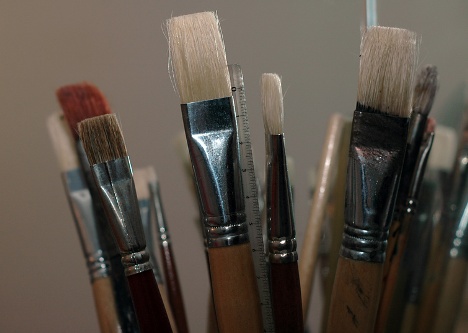 I must confess to a long standing affinity for the arts and crafts movement. If there was an iota of artistic talent in this set of hands and eyes, I probably would be toiling away in an artist's studio as opposed to a programmer's bench.

This section of a Fountain of Bargains lists commercial web sites for arts and crafts. The top links list art supply stores. The internet provides artists a great selection of supplies at reduced prices. Below the arts supply store, you will find sites selling artistic creations.
MisterArt knows that, for artists to succeed in this highly competitive market, they need access to affordable art supplies. MisterArt is positioned as the internet's leading art supply discounter. This is a great place to fill up your pallette and crafting box.
Scrapbook.com is a new store targetted at the needs of scrapbookers. Scrapbooking is an art form that combines family history, photos and artistic insight. Scrapbookers find unique and creative ways to adorn photo albums and memorabilia. Scrapbook.com includes many printable patterns along with a great selection of scrapbook, supplies and ideas.
Music Wizard Academy makes learning to play the piano (and music theory) fun. This system uses color coded keys to help introduce basic piano playing technique. The program then flips to the side to show how written music encodes keystrokes. It is a super fun way for both children and adults to learn piano.
Are you ready to start crafting in the digital age? ScrapGirls offers fun and intuitive programs for the digital scrapbooker. These programs can help you transform your digital photos into handsome scrapbook pages. The site includes software, tutorials, graphics, clipart and other items to help enhance your digital scrapbooking efforts.
Rockler is a woodworking superstore with a full selection of hand and power tools to finish your woodworking pieces. This is the place to find the best deals and selection of woodworking products.
Music & Arts offers the rental, sale and repair of musical instruments. You also find music and musical accessories along with music and voice lessons at locations throughout the US.