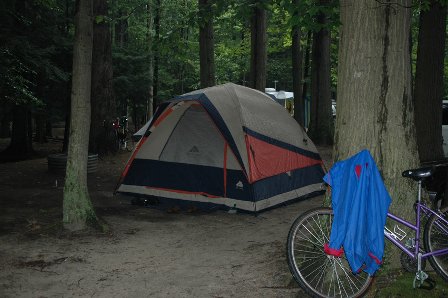 The Internet lets you gear up for your next adventure in the office; so you don't have to waste any precious recreation time shopping through stores.
The Internet has a great deal to offer for outdoor enthusiasts. New space age technologies have dramatically improved every piece of camping and climbing gear. You will also find great durable apparel, shoes and recreational equipment.
You can also find gear in the bikes and Sporting Goods sections. You will finding fishing supplies in the Boating section.
Gear Trade is an online destination for buying and selling gear. The site includes clearance items from major retailers along with items from other gear enthusiasts, such as yourself. Buying used is a great way to save, especially when you do so at a place that allows you to resell quality used goods.
Soul Poles of Park City creates skiing and trekking poles from sustainable bamboo. These premium natural fiber poles offer light weight and high performance.
Backcountry.com was founded by a group of nordic enthusiasts and Olympic athletes living in the Wasatch Mountains. Their goal is to create the ultimate online destination for outdoor enthusiasts. The stores carry top equipment for skiing, hiking, climbing and exploration, including many hard to find items such as avanlance survival supplies.
Outdoor Divas is a sporting goods shop from Colorado with sporting goods just for the ladies. Divas carry apparel and equipment for skinng, yoga, climbing and camping. You shop the store by activity, Outdoor Divas will give you a selection of quality items for that activity.
Bass Pro Shops is one of the nation's top vendors of fishing, hunting and camping supplies. You will find bargains on the world's best selection of rods and all the supplies needed to make your outdoor expeditions a success. (more bargains)
Discover the world of straps and webbing. Strapworks is dedicated to providing the outdoor world with the best quality straps, webbing and buckles. Straps are an easy to use, versatile fastener that you can use in a variety of settings from camping and rafting to basic travel and living.
Wilderness Exchange Unlimited (of Denver) offers last year's outdoor gear at steeply discounted internet pricing. This is a great place for budget shoppers to get quality gear for skiing, snowboarding and outdoor excursions.
Recreational Equipment, Inc. is a buyers' coop founded by outdoor enthusiasts who simply couldn't find the quality gear they needed at the major sporting goods stores. This is the place to find the gear that you will carry on all our outdoor excursions.
Marty's Ski and Board Shop of Park City is a mountain outfitter ready to equip you for your skiing and snowboarding adventures. You will find both equipment and performance outerwear.
The GoSun Stove is a portable solar stove. The stove has a long cylinder surrounded by a highly reflective solar casing. You put your food in the tube and point it at the sun and can cook with a variety of baking, boiling or frying techniques. The company will deliver stoves in the third world based on sales in first world countries.
CampSaver.com wants to help you gear up for camping without breaking the bank. The shop includes camping gear, showshoes, climbing gear and other items to assist in backcountry travel.
Save up to 70% on lift tickets. Get Ski Tickets offers discount ski tickets for resorts across the US including discounts on multi-resort super passes and multiple day passes.